Radio WROCK
The Radio WROCK CD depicts an AM radio broadcast on a summer evening in 1966.
This collection of original songs, and radio jingles by Jerry Cortesi and Dan Del Boccio will bring you back to a time when AM radio and classic rock was king of the air waves.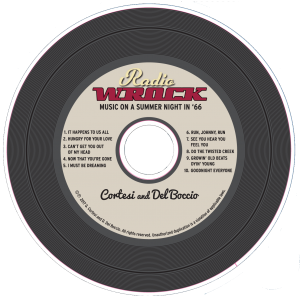 It Happens to Us All
Hungry for Your Love (featuring Al Herda)
Can't Get You Out of My Head
Now That You're Gone
I Must Be Dreaming
Run, Johnny, Run
See You Hear You Feel You
Do the Twisted Creek (featuring Al Herda)
Growin' Old Beats Dyin' Young (featuring Al Herda)
Good Night Everyone (featuring Roberta Cortesi)
All DJ voiceovers performed by Glen Dacy.
Listen to samples and purchase tracks for this CD